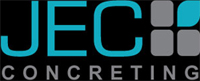 Over 20 years of local experience.

NSW Department of Fair Trading Gold Licence - 115367C / ABN: 55 092 826 018
JEC Concreting Pty Ltd is a residential, industrial and commercial company with over 20 years experience in concrete construction. We perform a variety of general contractor services including design and construct, renovation, retrofitting, up-fitting, historic preservation and new constructions. Building our business on foundations of integrity, we believe the key is a trusting and transparent relationship with our clients, fortunately over the years, this strategy blossomed many friendships. Our commitment to excellence has also seen us establish strong alliances with prime Sydney suppliers and contractors, to your benefit. Based upon a relentless passion for the construction industry, all our staff have made a commitment to quality and client satisfaction. JEC Concreting Pty Ltd is the firm to partner with for your next decorative project or construction endeavour!
We are a team of professional and friendly workers dedicated to providing clients with the best possible results using the best techniques and technologies available in the concreting industry. We are a highly skilled team of concreters that specialise in residential, industrial and commercial concreting. We strive for a flawless finish on every job, to maintain our reputation for excellence in all areas Sydney. JEC Concreting has the skills, experience, knowledge and equipment to complete all your concreting jobs.