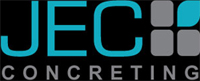 SERVICES & CAPABILITIES
JEC Concreting can perform a range of services to suit your concreting endeavour. Whether it be a residential or commercial development, new home or an innovative and creative touch up to your existing home or business, you can be sure JEC Concreting will strive to provide you with the most time and cost effective solution.
Residential Concrete
At JEC Concreting we agree that as well as being a direct reflection of the home owner, home is where the heart is. That's why we work cohesively with home owners, builders and developers to ensure our works and in turn, your home, makes the right statement about you. Whether you're building a new home, or simply improving and adding value your existing one, JEC Concreting has a solution to suit your style and budget. We perform a broad range of structural and decorative concrete services including foundation, footings, slabs, drive ways and path ways as well as retaining walls and other landscaping ideas. With a committed workforce and thorough knowledge of the industry, we can complete any job to the highest standard.
Commercial Concrete
JEC Concreting understands the volatility of commercial markets means, now more than ever, business owners need an edge to attract exposure and clientele. An effective and low cost way of doing so is through a simple and modern facelift (or floor-lift so to speak). JEC Concreting undertakes a plethora of commercial concrete services with a selection of decorative surface options and finishes including epoxy floor coatings. In order to deliver the edge you're looking for, we at JEC Concreting pride ourselves on establishing strong channels of communication between our staff and yours. Our commercial clients can be sure our works will NOT compromise their business and our professional standards and finishes will best reflect their business ethos. We cater the business, government and education sectors.
Landscaping | Earthworks
JEC Concreting is capable of providing you a total landscape package for your new or existing home. This includes landscape services from earthworks, retaining walls, plants and turf.

We utilize our own earth moving equipment which include: mini excavator with all attachments, Bobcat, concrete cutting equipment and trucks for debris transportation.
Our range of services include:
Ground Slab & Raft Slab Construction
Strip Footings
Bored Piers
Form Work Construction
Shotcrete Walls
Bondek Slabs
Retention Piers
Capping Beams
Basement Slabs
Drive Ways (Local Council and RTA Approved)
Passage Ways
Concrete Landscaping
House Extension Slabs
Shed, Patio, Pergola, and Tank Slabs
Pool Surroundings
Retaining Walls
Coloured and Stencil Pattern Options
Any other creative concrete related project you can dream of