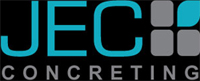 Welcome to JEC Concreting!
JEC Concreting has a strong reputation for offering the highest quality concrete and construction materials and services in the Sydney Metropolitan area. From residential home builders and renovations to major building contractors in commercial and industrial construction, we aim to make your next project hassle free. Our services include form work, steel supply and fixing, premixed concrete supply, an array of decorative concreting options as well as concrete resurfacing and maintenance. We specialize in all types of home and garden projects including concrete flooring, footings, piers, transfer slabs, concrete driveways, retaining walls, retention tanks, swimming pools, commercial and industrial projects and more. We encourage you to browse our website. Should you require any further information please do not hesitate to contact us and our friendly staff will attend to your enquiry as soon as possible.
Residential Concrete

We perform a broad range of concrete services including foundation, footings, slabs, drive ways and path ways as well as retaining walls and other landscaping ideas. With a committed workforce and thorough knowledge of the industry, we can complete any job to the highest standard.
Commercial Concrete

JEC Concreting undertakes a plethora of commercial concrete services with a selection of finishes including epoxy floor coatings. We cater the business, government and education sectors.
Landscaping | Earthworks

JEC Concreting is capable of providing you a total landscape package for your new or existing home. This includes landscape services from earthworks, retaining walls, plants and turf.

We utilize our own earth moving equipment. These include: mini excavator with all attachments, Bobcat, concrete cutting equipment and trucks for debris transportation.